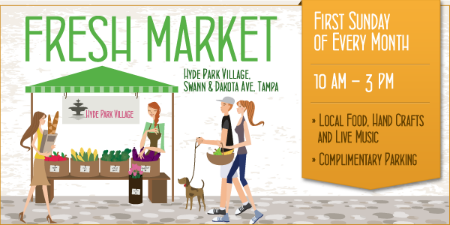 About the Hyde Park Village Fresh Market:
Commerce and community connect the first Sunday of every month from 10 AM to 3 PM, year-round, rain or shine at the free, public Hyde Park Village Fresh Market where guests shop, stroll and enjoy live entertainment.
Over 100 vendors showcase their local and regional farm and agricultural products, prepared foods and locally-made hand-crafts and offerings on the pedestrian-friendly streets of beautiful Hyde Park Village.
Parking and admission are always complimentary and pets are welcome.
Agricultural Vendors:
• USA Produce – vegetables, fruit, pineapple and fresh juice harvested from Florida, Georgia and South Carolina + organic produce when available.
• Green Acre Aquaponics, Brooksville, FL – USDA organic vegetables, fruit, aquaponically grown and chemical-free herbs and vegetables, hormone-free and humanely raised, fresh Tilapia.
• City Girl Sprouts – fresh, locally grown sprouts from Plant City, FL.
• Raw Juicing and Detox of Tampa – Fresh, raw vegetables and fruits juiced with protein boosters like chia seeds, hemp seed and sunflower sprouts.
Staple Vendors:
• Parke Family HydroFarms – Hydroponically, homegrown insecticide and pesticide-free
fruits and vegetables from Dover, FL.
• Healthy Heritage Grass Fed Beef – Hormone, antibiotic-free and grass-fed beef, lamb and wild game + free-range, farm-fresh eggs.
• Anderson Macadamia Nursery & Grove – Macadamia nuts from LaBelle, FL.
• Tropical Gardens – Tropical plants and orchids.
• R & S Herbs – Fresh, local herbs, sunflowers, pepper plants and micro-greens.
• Holloway Farms – Handmade chicken coops and baby chicks.
• Eden's Nectar – Raw, local honey varieties.
• 20 Shekels Bread – Locally-baked, sprouted bread varieties and Ezekiel Bread.
• The Cheese Lodge – Imported cheeses.
• Sweet Harvest Farms – Handmade, medicinal soaps.
• Briarwood Farms – Spice blends, oils, vinegars and Marcona almonds.
Vendors:
Tampa Bay Markets handles all programming and vendor booking for the Hyde Park Village Fresh Market. Prospective vendors should apply online at www.TampaBayMarkets.com.
Musicians:
We are always looking for new talent for the Hyde Park Village Fresh Market. Interested musicians should contact Kali.TenBieg@WSDevelopment.com.
Hyde Park Village Shops:
Many Hyde Park Village shops open early for business, including…
• Downtown Dogs
• Francesca's Collections
• Pottery Barn
• Juxtapose
Fresh Market Sponsors:
In partnership with Tampa Bay Markets, the Fresh Market is sponsored by Tampa Bay Times and tbt*.
Tampa Kids Market:
The Tampa Kids Market is a recent addition to the Sunday market. Young entrepreneurs ages 5-17 manage their own vendor booths and practice basic business principles while selling their homemade goods.
To become a vendor, sponsor, partner or volunteer for the Tampa Kids Market, apply online at www.TampaKidsMarket.org or learn more here.
The Tampa Kids Market is sponsored by FIT4Mom, Glazer Children's Museum and Happy Family.
Pets @ the Fresh Market:
Hyde Park Village offers many pet-friendly shopping and dining options, as well as pet pick-up stations and grassy and shady areas. Many shops offer water bowls, treats and welcome dogs inside!
Click here for a list of pet-friendly shops and restaurants.
2014 Fresh Market Dates:
• 1/5
• 2/2
• 3/2
• 4/6
• 5/4
• 6/1
• 7/6
• 8/3
• 9/7
• 10/5
• 11/2
• 12/7
Parking:
Parking is ALWAYS complimentary at Hyde Park Village. Overnight parking is not permitted. There are three convenient parking garages and two surface parking lots available:
• W. Swann Avenue at S. Rome Avenue, across from CineBistro
• S. Oregon Avenue and W. Swann Avenue, above LA Fitness
• S. Rome Avenue and Snow Avenue, next to Nature's Table Café
• Surface parking lots are also available at W. Swann Avenue and S. Rome Avenue
For Directions, click here.
Street Closure:
The streets close at 7 AM on Fresh Market Sunday at W. Swann @ Dakota Avenue; S. Dakota @ Snow Avenue; Snow Avenue @ S. Rome Avenue. The streets reopen at approximately 4 PM.
Residents of Hyde Park Walk will be granted entry to and from the property via the alley way between S. Dakota Avenue and S. Rome Avenue. Upon exiting the parking garage, residents will exit left out of the garage and right onto the alley way. Way-finding signage will be visible and security officers will be available for guidance and direction.