Event Details
Receive updates, sales and special offers!
Connect with Us
Chalk Walk
Friday, March 14 through Sunday, March 16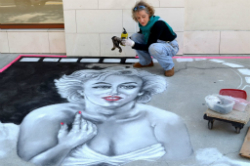 About Chalk Walk:
If you're looking for a fantastic weekend that is fun for everyone, then CHALK WALK is for you! Tampa Bay Businesses for Culture & the Arts is proud to present its sixth annual Chalk Walk. Come down to Hyde Park Village March 14, 15 and 16 for a free, family art festival that brings art to the streets, literally. Over 50 chalk and plein air artists will be creating truly impressive and beautiful works of art that you won't want to miss! In addition, visitors can enjoy gourmet food trucks, beer and wine specials, an open air market, live musical entertainment, and children's crafts and activities. Parking and admission are always complimentary and friendly pets on leashes are welcome.
For more information, visit www.tbbca.org.
For the schedule of events CLICK HERE
• Friday, March 14 from 4 to 7 PM
• Saturday, March 15 from 10 AM to 6 PM
• Sunday, March 16 from 10 AM to 3 PM
Proceeds from Chalk Walk will be used to help build a stronger arts & cultural community in Tampa Bay. Make sure you attend the fifth annual Chalk Walk art festival and become part of the celebration and creation of art!
Sponsors:
• Target
Pets @ Chalk Walk:
Hyde Park Village offers many pet-friendly shopping and dining options, as well as pet pick-up stations and grassy and shady areas. Many shops offer water bowls, treats and welcome dogs inside! Click here for a list of pet-friendly shops and restaurants.
Parking:
Parking is ALWAYS complimentary at Hyde Park Village. Overnight parking is not permitted. There are three convenient parking garages and two surface parking lots available:
• W. Swann Avenue at S. Rome Avenue, across from CineBistro
• S. Oregon Avenue and W. Swann Avenue, above LA Fitness
• S. Rome Avenue and Snow Avenue, next to Nature's Table Café
• Surface parking lots are also available at W. Swann Avenue and S. Rome Avenue
Receive updates, sales and special offers!
Connect with Us